In keeping with our
weekly rhythm
, yesterday was 'Cooking Day'.
While L prepared our morning tea...
...I prepped the spinach & ricotta filling (cook onion & garlic with a little salt until soft; wilt fresh spinach; process with a good ricotta until smooth).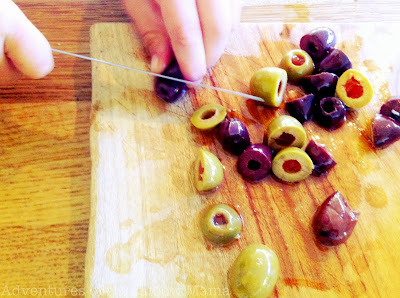 Next, L sliced olives and peeled sweet potatoes. I sliced a tomato and grated some tasty cheese and thinly sliced his sweet potatoes. I also opened a jar a pasta sauce! Lol. (I do usually make my own homemade tomato sauce for lasagna but I wanted to keep this reasonably simple).
Ready for layering! I was in charge of dipping the pasta sheets in hot water (to the right of the lasagna tray) & L was in charge of layering all of our delicious ingredients.
Go Lovely! * A little sauce 2 start * pasta sheets * sweet potato * spinach + ricotta * pasta sheets * sauce * REPEAT * top with the grated cheese * finish with sliced tomato and olives.
Served with a fresh garden salad and followed by Bill Granger's
Passionfruit Pudding
(I substituted plain flour for Quinoa flour and it was A-mazing!).
Delish. What are your favourite recipes to cook with kids? A. x